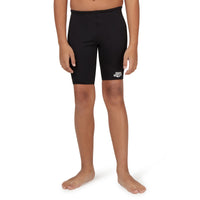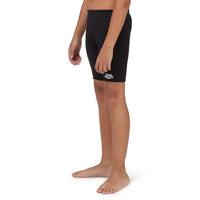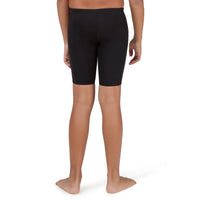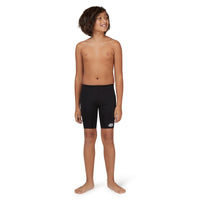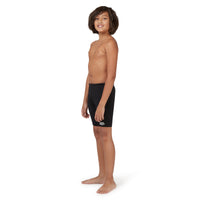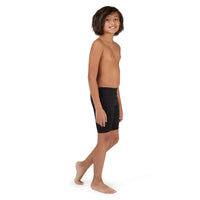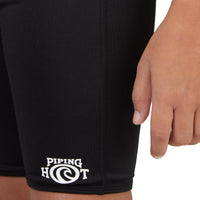 BOYS JAMMER WITH UPF50+ PROTECTION
Description
FEATURES
SIZE GUIDE
The Jammer is ideal for casual training and regular pool use offering comfort and modest coverage. The elastic waistband with inner drawstring offers an adjustable, secure, distraction-free fit in the water and out.
This product contains recycled polyester made from recycled content including plastic bottles. Piping Hot has prevented 12 million plastic bottles and counting, from entering landfill or polluting the ocean.

• Made with Creora elastane, these jammers are chlorine resistant, making them excellent for swimming pool use

• Protect yourself from the sun with a rating of UPF 50+, allowing less than 1/50th of the UV radiation falling on the surface of the garment for excellent sun protection

• This garment is OEKOTEX-100 certified, so every component has been tested for harmful substances and is harmless for human health
• This product is certified to the Global Recycled Standard. The Global Recycled Standard verifies recycled material and tracks it from the source to the final product. The GRS includes strict social, environmental, and chemical requirements.

• Proudly designed in Australia, Piping Hot was born from a love of the ocean and the never-ending thrill of chasing waves



• UPF50+ Sun Protection
• Made with Recycled Polyester
• OEKOTEX-100 certified
• Machine washable
• Chlorine resistant
GIRLS 2-16
| | | | | |
| --- | --- | --- | --- | --- |
| SIZE | HEIGHT (CM) | CHEST (CM) | WAIST (CM) |  HIPS (CM) |
| 2 | 92 | 56 | 54 | 58 |
| 3 | 100 | 58 | 55 | 60 |
| 4 | 108 | 60 | 56 | 62 |
| 5 | 115 | 62 | 57 | 64 |
| 6 | 121 | 64 | 58 | 66 |
| 7 | 127 | 66 | 59 | 69 |
| 8 | 132 | 68 | 60 | 72 |
| 10 | 144 | 74 | 64 | 78 |
| 12 | 150 | 79 | 67 | 83 |
| 14 | 160 | 84 | 70 | 88 |
| 16 | 165 | 89 | 73 | 93 |
BOYS 2-16
| | | | | |
| --- | --- | --- | --- | --- |
| SIZE | HEIGHT (CM) | CHEST (CM) | WAIST (CM) |  HIPS (CM) |
| 2 | 92 | 56 | 54 | 58 |
| 3 | 100 | 58 | 55 | 60 |
| 4 | 108 | 60 | 56 | 62 |
| 5 | 115 | 62 | 57 | 64 |
| 6 | 121 | 64 | 58 | 66 |
| 7 | 127 | 66 | 59 | 69 |
| 8 | 134 | 68 | 60 | 72 |
| 10 | 145 | 72 | 64 | 78 |
| 12 | 150 | 77 | 68 | 83 |
| 14 | 160 | 82 | 72 | 88 |
| 16 | 170 | 87 | 76 | 93 |
MENS XS - XXL
| | | |
| --- | --- | --- |
| SIZE | CHEST (CM) | CHEST (Inch) |
| XS | 87-91 | 34-36 |
| S | 92-96 | 36-38 |
| M | 97-101 | 38-40 |
| L | 102-107 | 40-42 |
| XL | 108-113 | 42 1/2 - 44 1/2 |
| XXL | 114-119 | 45-46 |